ABS Jets achieved a 25 percent reduction in time on C-Check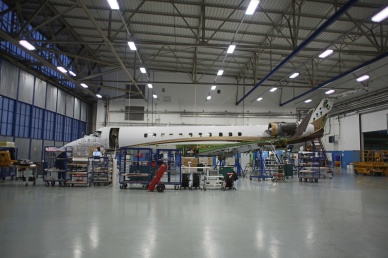 The Critical Chain Project Management (CCPM) ABS Jets implemented last year into its working environment has recently brought its first significant results. After months of testing on the pilot project, the ABS Jets team achieved a 25 % reduction in ground time compared to 96 months of standard ground time.
In mid-2018, the company decided to implement the CCPM in order to increase effectiveness and achieve sustainable performance of its maintenance processes. The core principle of the methodology is in the change management of performance checks on the aircraft. Applying CCPM allows bottlenecks requiring attention to be identified. This methodology works mainly with daily job card distribution, staff redeployment, tooling enhancement and supply chain improvement.
The initial stage started with analysing all the current work processes and dividing all the steps into micro work packages. These packages were then recorded into the CCPM software to create the "chain" of specific activities that happen during the C-check and to identify the critical path. Making these changes helped ABS Jets achieve efficient continuity between individual steps, eliminating collisions and finally reducing ground time for the C-Check by 25 %.
"When we implemented this project, we set up some internal goals that we wanted to achieve. I am proud that the hard work of all our team members has resulted in such great outcomes. Not only have we managed to reduce the C-check time but CCPM has also shown a positive impact on safety and quality," said Thierry Barre, Technical Director at ABS Jets.
The ABS Jets team can now schedule the C-check in a way that allows staff to execute the most extensive steps of the work package at the beginning of the project. It ensures overall control of the job's progress by being able to release the aircraft for servicing with the aim of reducing the standard ground time slot for heavy maintenance events.
The CCPM is a long-term project. ABS Jets is continuing to focus on further development in order to deliver better results and satisfy all their customers.